Olumé
Regular price
Rs. 1,799.00
Regular price
Sale price
Rs. 1,799.00
Unit price
per
Sale
Sold out
Olume Grow stops hair fall and rejuvenates hair roots to start a sustainable growth of hair.
Here's what you can expect with this purchase
If your hair fall is due to lifestyle disorder, weak hair roots, poor diet, this product along with diet guidelines mentioned on this page will definitely help.
You can expect your hair loss to reduce drastically with just 4-5 applications. Continued usage of this product, beyond 4-5 applications, will rejuvenate hair roots.
Please note this order contains total 2 packs and they should last 7-8 applications.
Here's where this product doesn't help
If your hair fall is due to any scalp infection (bacterial or fungal) or genetics, this product will not help. However, if you need to cure scalp infection, we can help and for the same, you can reach out to Shobha ma'm by filling out a form on the contact us page.
You cannot expect to treat Male Pattern Baldness caused by genetics with this product.
Continued Usage
A continued usage will help stop your hair fall and get a much stronger hair roots and grow new hair. Since hair growth is never a quick fix, we suggest you to 1) continue using this product for at least 3 months, and 2) follow our diet guidelines to get maximum benefits  
The story behind Olumé
Disturbed by unnecessary junk in 99% beauty products out there and inspired by ancient secrets of Ayurveda and Folk Medicine, CV Shobha started OLUMÉ to let the new generation know there is nothing better than plant chemistry to heal and get better 💚🌱
Share
View full details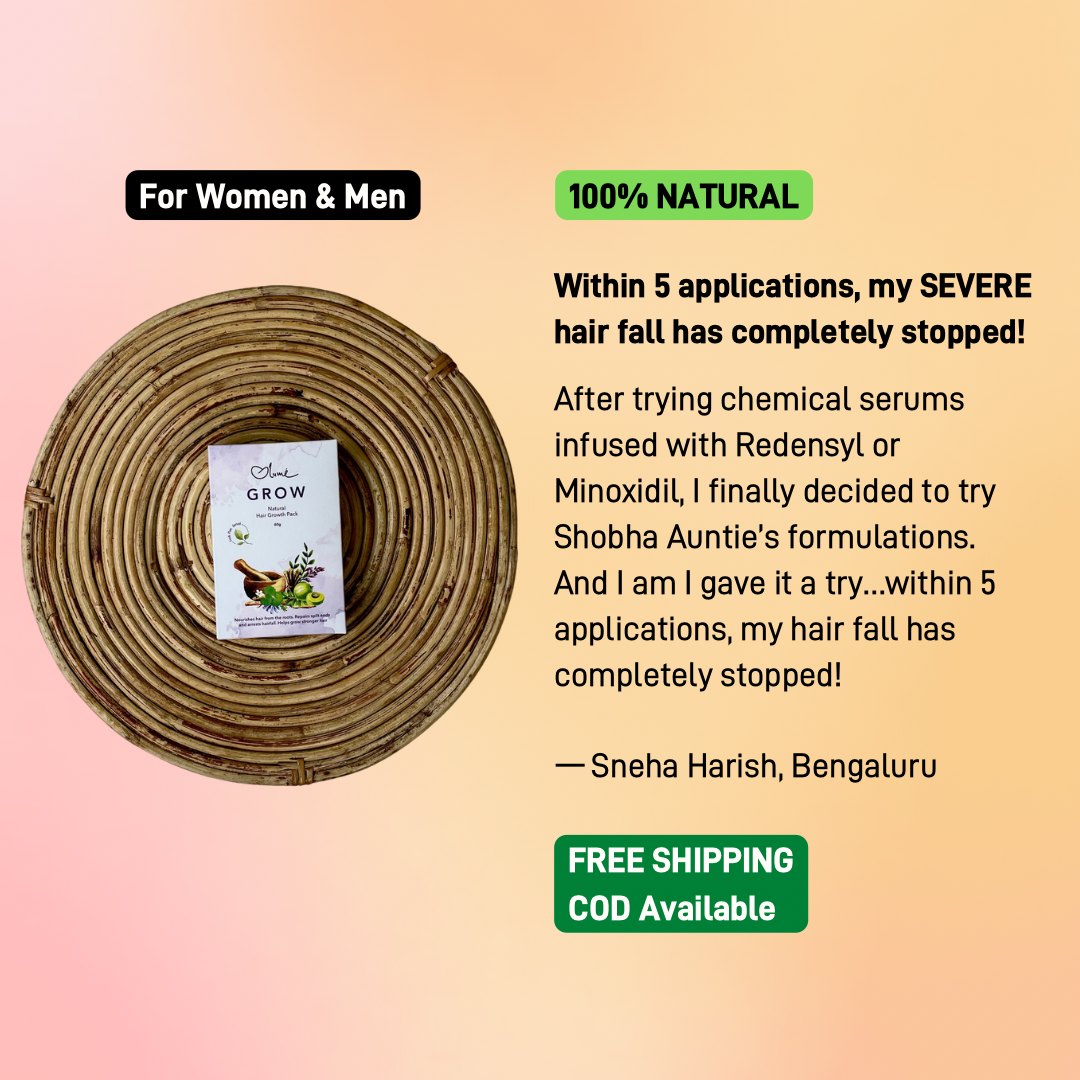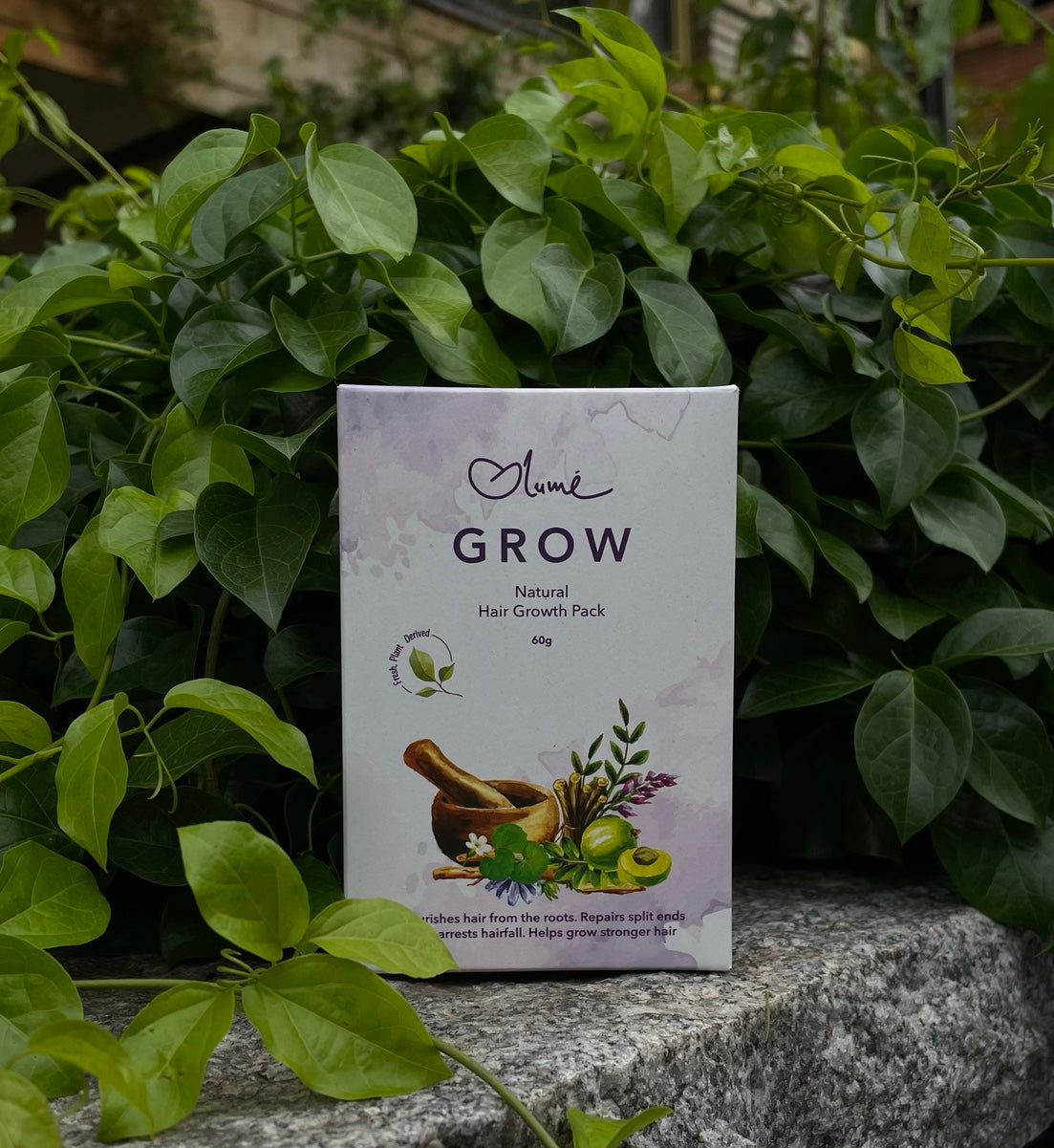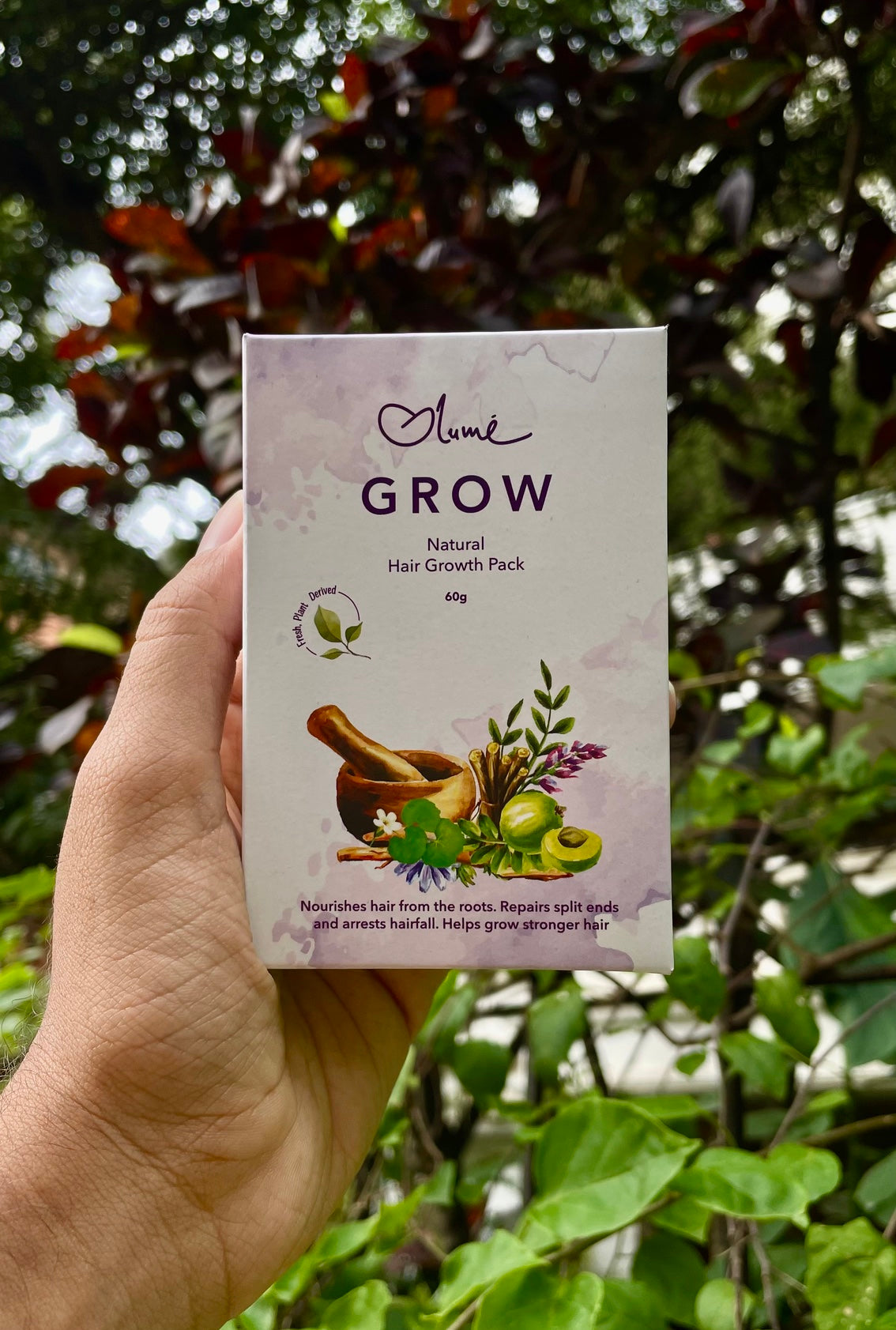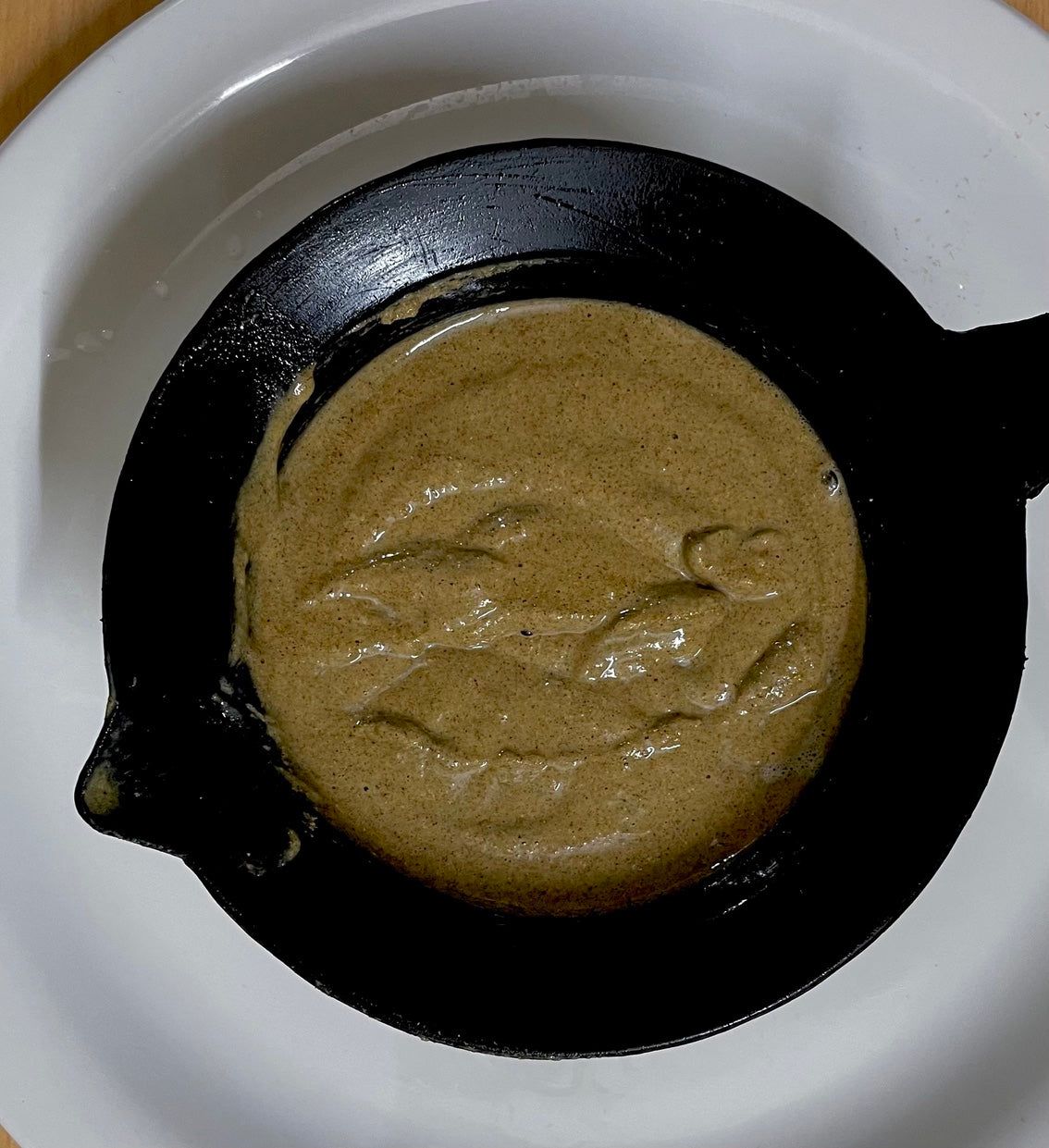 Let's get into the nitty gritties
Why OLUMÉ GROWTH PACK

A powerful formulation that repairs split ends and stops hair fall.

Make sure to follow the ritual and your hair will be stronger than ever!
Here's the Ritual

For dry hair/skin: Take the required quantity of Olume Grow Pack and mix it in desi a2 cow/buffalo/goat milk or pure almond milk.

For oily hair/skin: Make a fine paste by taking the required quantity of Olume Grow pack by mixing it in RO/filtered water.

Mix it and adjust the milk/water ratio till you get the texture that is like a slightly thick dosa batter.

Keep the paste outside overnight or for 4-5 hours.

Apply the mixture all over the scalp, particularly affected areas. Leave it overnight or keep it for at least four hours. Wash off with a lukewarm or slightly colder water. Do not use shampoo. Use two to three times a week.

If you are prone to cold or having sinus issues, please apply and leave it on scalp for 3-4 hours during daytime.

*DIET*
1. Native Oils: Use native cold-pressed oils for cooking like Groundnut, Coconut, Sesame, or Mustard. All newly established seed oils have highly skewed Omega 3:6 ratio and shouldn't be used in cooking. Particularly, stop using Sunflower, Rice bran, Palm, or Cottonseed oil. Most restaurants use Palm or Sunflower Oil in their cooking so it's best to reduce dining out. Desi/A2 Ghee is allowed, of course, as it is rich in Omega 3 and contains healthy fats

2. Sugar: Stop using sweeteners like White Sugar, Yellow Jaggery and Commercial Honey. Switch to Brown Jaggery (Palm or Cane) or Wild Honey

3. Eat Right: Reduce simple carbs like Maida and White Rice. Include Rajmudi/Red/Black Rice, Millets (Ragi & Kodo), and Fibre-rich native greens
What's In It For Me

Olumé Hair Growth Pack helps stop the hair fall and gives a facial glow! ✨
What Goes In It

Yashtimadhu (Glycyrrhiza Glabra), Jala Brahmi (Bacopa Monnieri), Native Amla (Indian Gooseberry), Banyan Tree (Ficus Benghalensis)
Olumé, meaning affection and care in Kannada, is started by CV Shobha, a herbalist who has been making evidence-based formulations for the past 30 years.

At core, this is why we are different—

1. We don't add any chemicals to our formulations — not even artificial fragrances, we prefer natural aroma!

2. There are no shortcuts to holistic health. Our herbal formulations nourish you in and out, and they work well addressing the root cause

3. We hold less inventory which
allows us to make our products in small batches ensuring
each herb works its magic when it
reaches you

--

*Shobha CV has treated more than 5000 people having skin and hair disorders in the last 30 years.