Olumé
Regular price
Sale price
Rs. 649.00
Unit price
per
Sale
Sold out
It's time to try organically grown, chemical free, 100% natural hair dye 🖤 In the 90's our founder Shobha CV scoured old Kannada manuscripts, spoke with various experts, did research and trials for 8 years to arrive at her own formula for natural hair color that imparts rich black and doesn't cause allergic reactions!
Here's why Olumé Hair Color is special—
First things first, it turns only grey hair black and 

does not end up turning healthy black hair gray ✅



Unlike other plain Henna & Indigo dyes, our color is rich black and lasts anywhere between 2-3 weeks 🖤
There's no need to soak Henna overnight! Our hair color not only colors your hair, but also takes care of your scalp health by not causing any allergic reactions. We have many patrons who have observed reduced hair fall after switching to Olumé Shine

NO ANIMAL TESTING 🐇, NO CHEMICALS 🛑, 100% VEGAN 🌱

You can use it for multiple applications, just keep the color in an air-tight container after each usage 🫙
Our hair color isn't just plain Indigo — it is infused with potent herbs that curb hair fall while also coloring your hair effectively 🌱
Doesn't leave a thin film of color on the scalp unlike other natural dyes 
Our pricing is inclusive of Shipping and GST. For each order, we pay on average Rs 100 towards shipping and 18% GST! 
A unisex hair color kit — for Women as well as Men 
It is 100% natural with no chemicals whatsoever
Continued use of this natural hair color arrests the spread of grey hair
Bye bye allergies! Unlike all chemical dyes and many Henna & Indigo based dyes, our hair color does not cause allergic reactions!
Safe to use on beard, mustache, eyebrows, and side locks as well 
Why Switch from Chemical Hair Dye—
1. Chemical Dye causes allergic/contact Dermatitis. As per Allopathy, Dermatitis is IMPOSSIBLE to cure and you will forever rely on antibiotics/anti-fungals to manage it
2. If you keep using Chemical Dye, eventually, your healthy black hair will also start turning grey
3. Chemical Dye is likely to cause severe hair fall and allergic reactions
Olumé Shine Is Better & Affordable—
1. We have added potent herbs along with Henna and Indigo that stop the growth of grey hair! ✅😇
2. Unlike other natural hair colors, this one works for women/men who have dry hair/skin as well 
3. We are not sure why other brands are charging 2x-3x the rate for something that all women should be using considering the risk involved with chemical hair colors 🤯 
Please note—
1. As mentioned, our hair color is suitable for women/men with dry skin/hair as well. However, if your hair/skin it extra dry, then we suggest you apply cold pressed coconut hair oil before applying henna and after applying the color. In case of any questions, please write to us at olumebeauty at gmail dot com
2. Since exposure to air may lead to oxidation, we suggest to store unused color in an air-tight container
3. Our hair color kit contains no chemicals whatsoever! ✅
The story behind Olumé—
Disturbed by unnecessary junk in 99% beauty products out there and inspired by ancient secrets of Ayurveda, CV Shobha started OLUMÉ to let the new generation know there is nothing better than plant chemistry to heal and get better 💚🌱
Share
View full details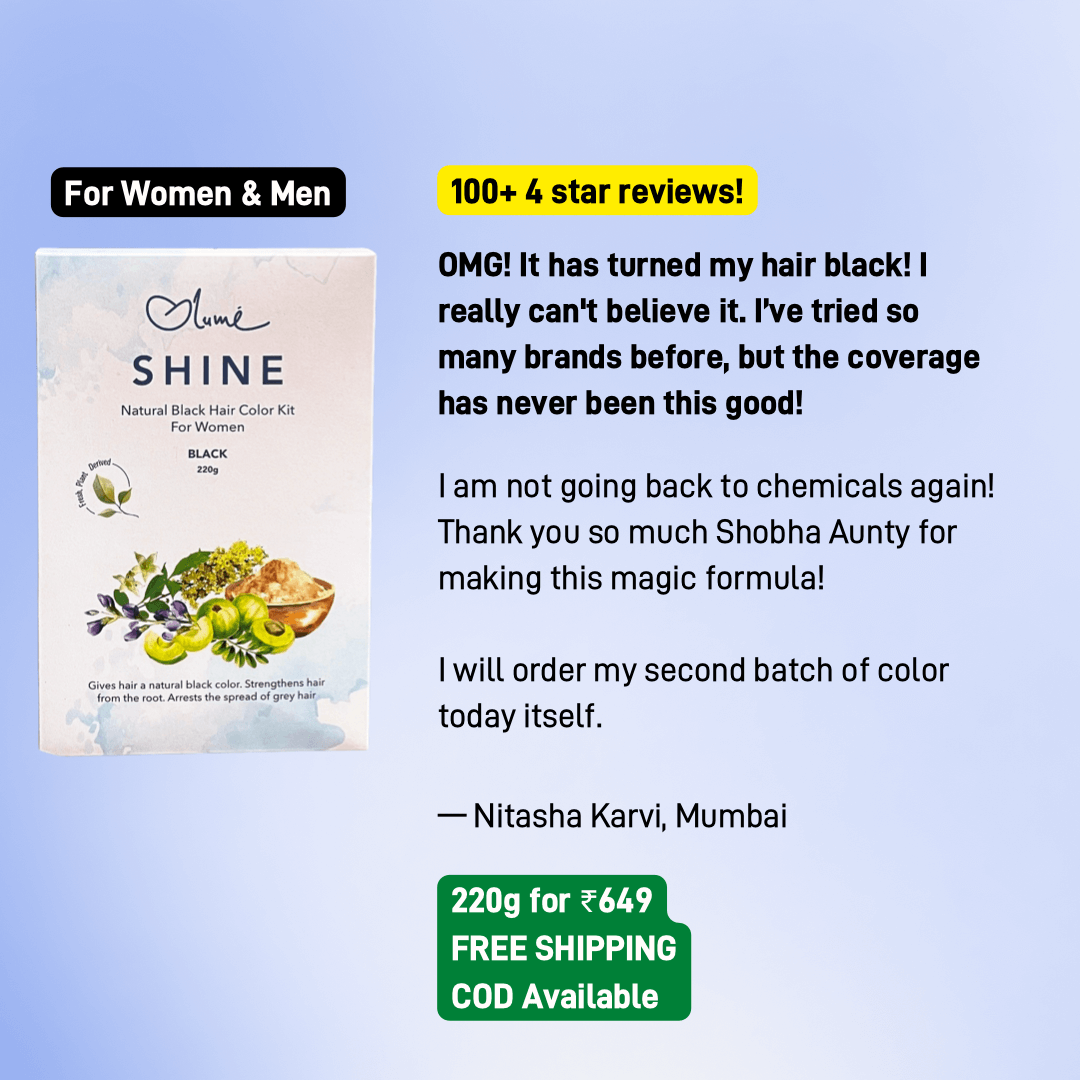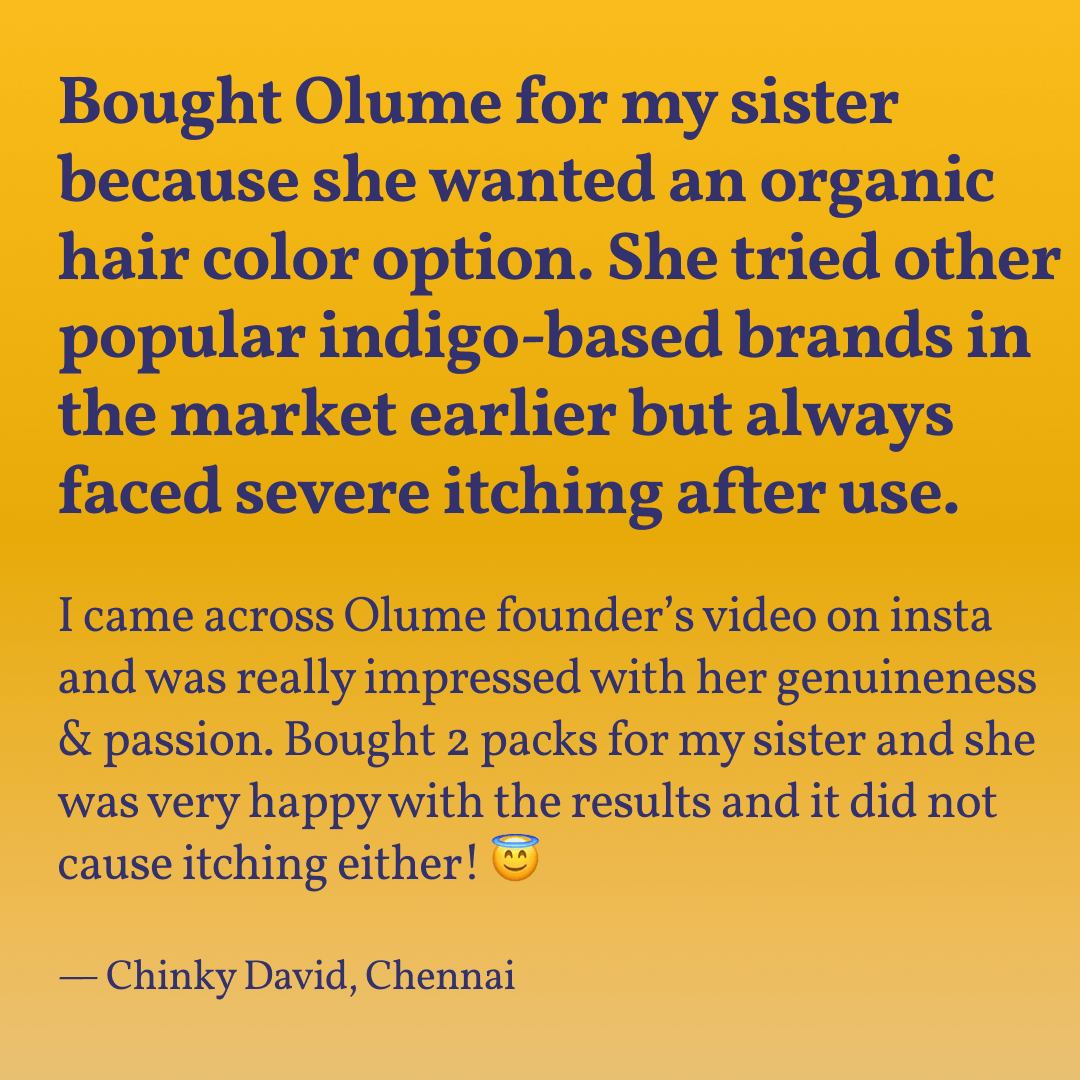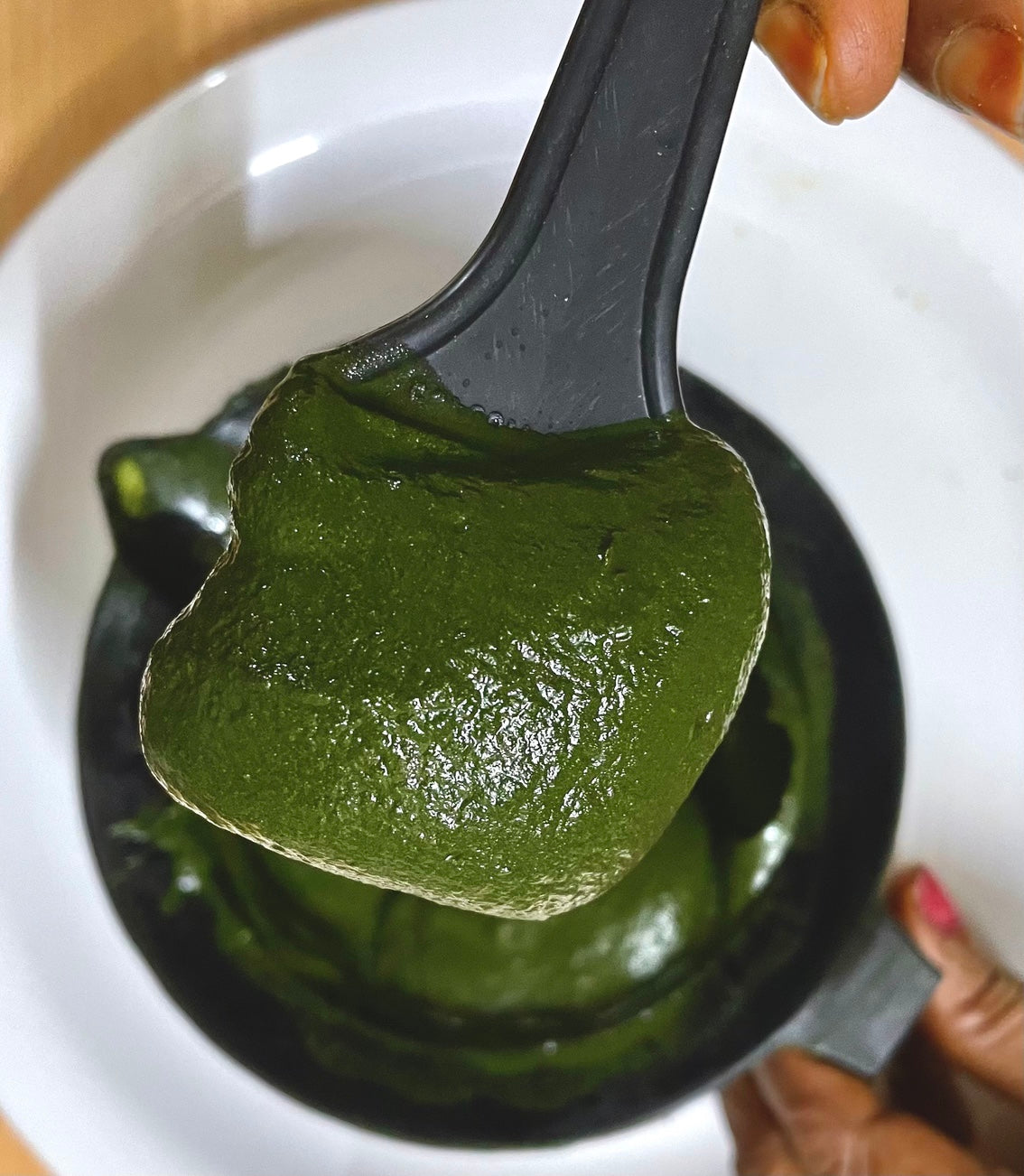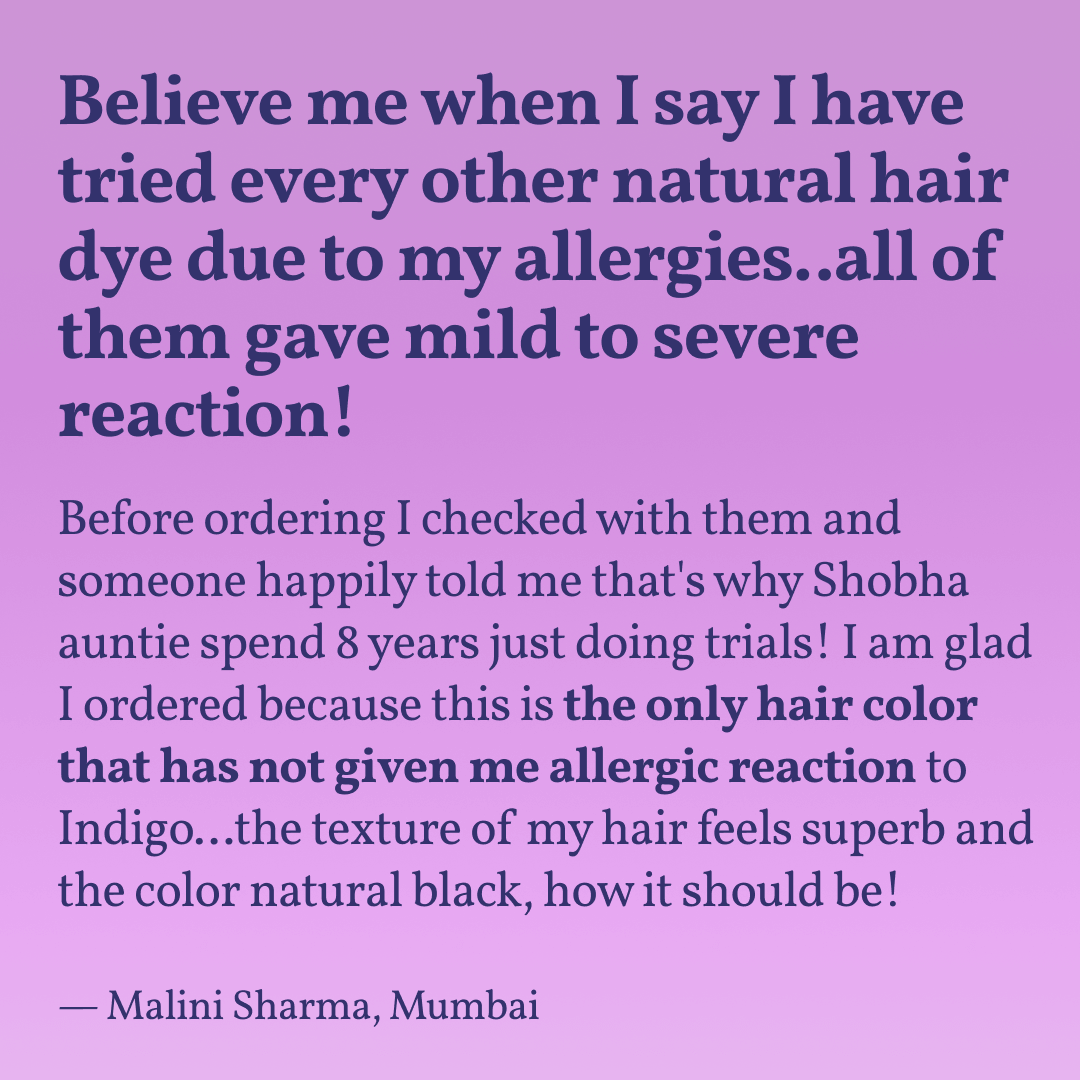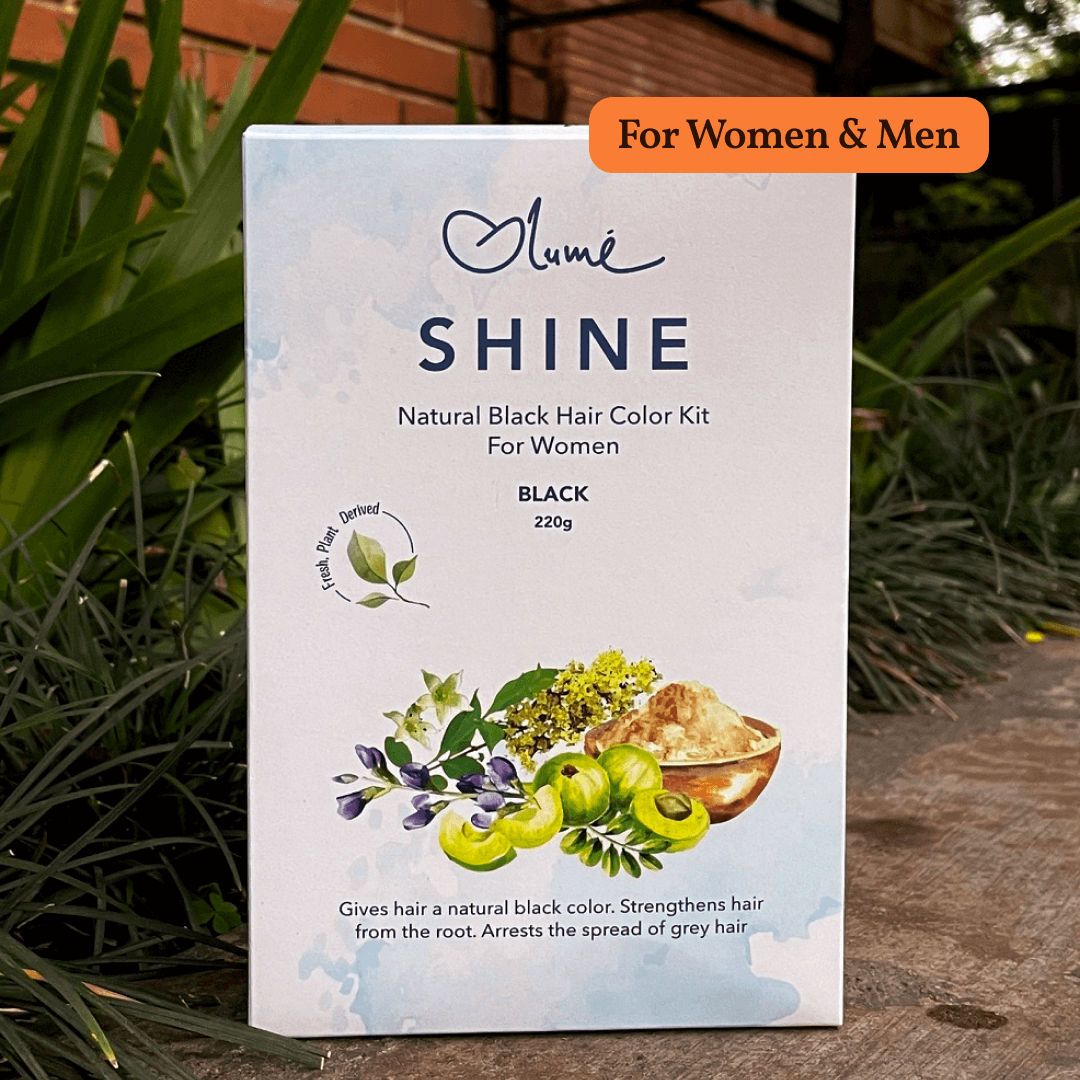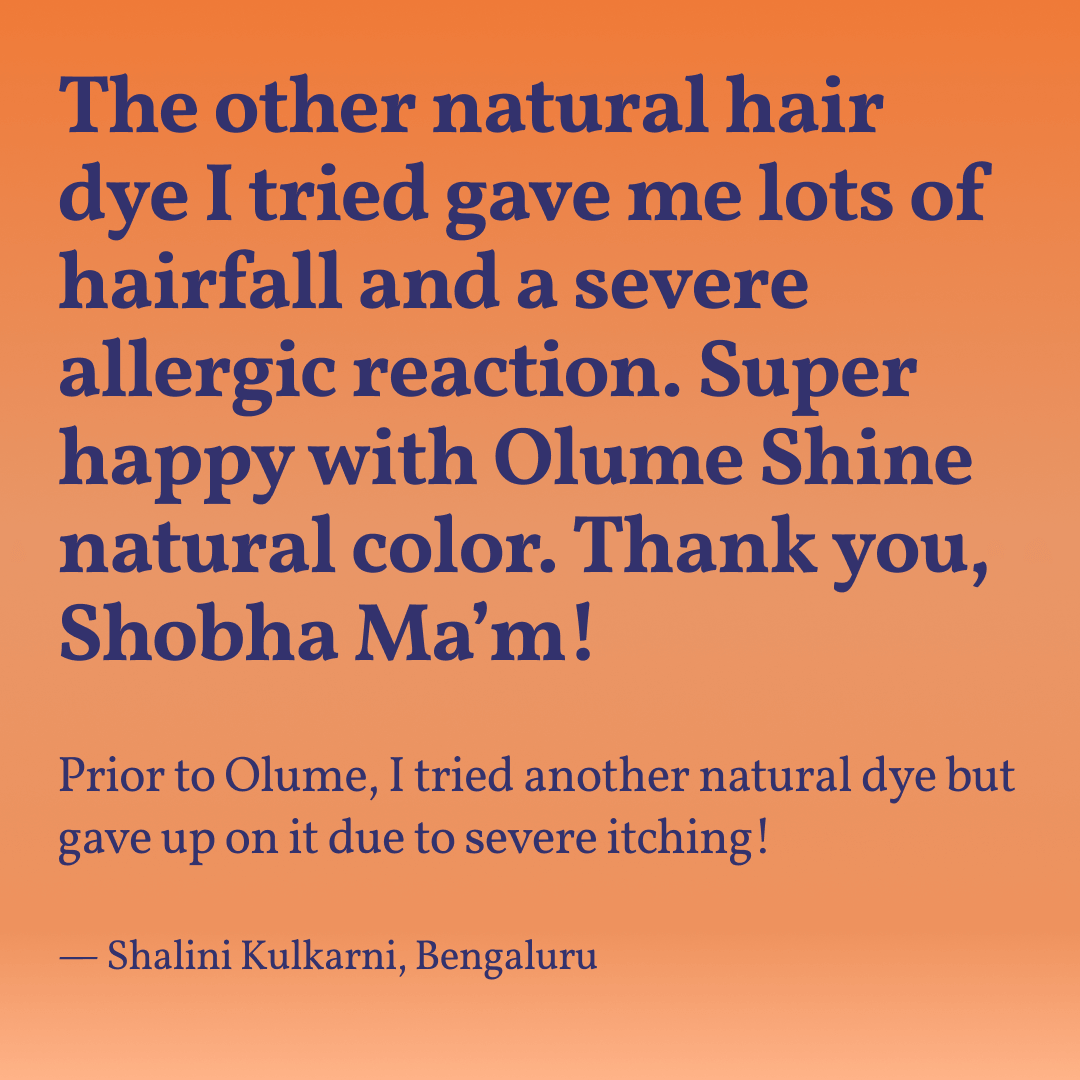 Excellent
It's really a natural product ...v can believe dis and buy dis...initially i also had doubt on dis after using dis it's really good.Thank you Olume team😍
I tried the product last week,i really no words to express , i have allergic reactions , i have tried so many hair colours but didt work ,thank u soo much shoba mam , u have given a nice product.i suggest without hesitating we can use this product.
Awesome
My mom and me have been using the hair color kit for almost a decade now. Its easy to apply & very effective without any side effects. Hair looks naturally black and shiny.
Best hair color
Mam sorry to be late to respond.I tried this hair color it's very very good gave a natural feel.I feel very nice unless like other hair dyes. Thank you for your research.it helping many of us .I am telling my neighbour's and cousins to use this.Warmly Usha raj
Let's get into the nitty gritties
Why OLUMÉ All Natural Hair Color

This all natural hair color lasts 2-3 weeks, imparts natural black and strengthens hair from the root

Continue using this natural hair color to arrest the growth of grey hair
Here's the Ritual

1. First Day: Boil 150ml of water and fully dissolve a sachet of Enhancer in it. You can use a mixer to make a fine paste. Take required quantity of Olumé Henna in a bowl and slowly add the Enhancer Liquid you just prepared to form a paste
2. Using gloved hands, apply the paste on to each section of hair from root to tips with a brush
3. Leave for 60 minutes and rinse with water without a Shampoo or Shikakai powder
4. Second Day: Boil 150ml of water and fully dissolve a sachet of Enhancer in it. Take required amount of Olumé Hair Color in a bowl and slowly add the Enhancer Liquid you just prepared to form a thick paste
5. Using gloved hands, apply the Paste on to each section of hair from root to tips with a brush
6. Leave for 60 minutes and rinse with water without a Shampoo or Shikakai powder (do not use shampoo or a conditioner to wash your hair). Ideally, refrain from using shampoo or conditioner for the first 3-4 washes

Please note—
1. Regular chemical dye colors the hair jet black which looks so fake that people can easily make out it's a dye. Olumé Hair Color kit gives a natural shade of black that's more in tune with how natural hair looks!
2. If you have been using Chemical Dye for a few years and switching to Olumé Hair Dye Kit, be patient with it on the first couple usage as the scalp takes little bit of time to adjust to a natural dye/color
3. Unlike chemical dyes, the Olumé Hair Color Kit doesn't multiply grey hair, helps remove dandruff, and nourishes scalp
4. The blackening can be seen progressively in few hours after you finish your application of Indigo color (which happens on day two). For improved results repeat the process once in every 2-3 weeks

*DIET*
1. Native Oils: Use native cold-pressed oils for cooking like Groundnut, Coconut, Sesame, or Mustard. All newly established commercial oils have highly skewed Omega 3:6 ratio and shouldn't be used in cooking. Particularly, stop using Sunflower, Rice bran, Palm, or Cottonseed oil. Most restaurants use Palm or Sunflower Oil in their cooking so it's best to reduce dining out. Desi/A2 Ghee is allowed, of course, as it is rich in Omega 3 and contains healthy fats

2. Sugar: Stop using sweeteners like White Sugar, Yellow Jaggery and Commercial Honey. Switch to Brown Jaggery (Palm or Cane) or Wild Honey

3. Eat Right: Reduce simple carbs like Maida and White Rice. Include Rajmudi/Red/Black Rice, Millets (Ragi & Kodo), and Fibre-rich native greens
What's In It For Me

Olumé Shine Hair Color is an all natural hair color developed by Shobha CV around 2005. Apart from giving a natural black color to hair, it stops graying of hair 🖤💚
What Goes In It

Henna (Lawsonia inermis), Jala Brahmi (Bacopa Monnieri), Bhringaraj (Eclipta alba), Native Amla (Indian gooseberry), Indigo (Indigofera tinctoria), Manjistha (Rubia cordifolia), Sappanwood (Biancaea sappan)
Olumé, meaning affection and care in Kannada, is started by CV Shobha, a herbalist who has been making evidence-based formulations for the past 30 years.

At core, this is why we are different—

1. We don't add any chemicals to our formulations — not even artificial fragrances, we prefer natural aroma!

2. There are no shortcuts to holistic health. Our herbal formulations nourish you in and out, and they work well addressing the root cause

3. We hold less inventory which
allows us to make our products in small batches ensuring
each herb works its magic when it
reaches you

--

*Shobha CV has treated more than 5000 people having skin and hair disorders in the last 30 years.