Olumé
Regular price
Rs. 700.00
Sale price
Rs. 600.00
Unit price
per
Sale
Sold out
Olume Repair Hair Oil removes dandruff, prevents premature greying, and soothes the scalp. A formulation of 5 potent & native herbs, our oil is sure to root out your dandruff problems and stop greying (if you're below 40 years of age)
Potent herbs like Kasi, Lonika and Kakajanga in our hair oil removes dandruff. Indigo or Neelini in it stops the spread of premature greys, and Bhringaraj soothes the scalp.
Now Let's talk about Dandruff—
Did you know dandruff is essentially an issue of overgrowth of yeast?
Q. And what does yeast like and feed on? A. Simple carbs and sugar
Stop giving food to yeast, try our anti dandruff hair oil along with the diet protocol (mentioned right below) and you truly will be dandruff free! 💚✅💛
If you have greys and wish to color them without using any chemicals, you can try our all natural hair color kit as well.
Anti Dandruff Diet Protocol—
1. Eliminate non-native, industrial cooking oils like sunflower, rice bran, palm, soy bean, etc. Switch to cold pressed native oils like Groundnut, Sesame, Mustard, or Coconut.
2. Eliminate maida and white sugar (organic brown jaggery, in moderation, is okay since it contains fiber and minerals)
3. Try our repair anti dandruff hair oil for 42-45 days
The story behind Olumé—
Disturbed by unnecessary junk in 99% beauty products out there and inspired by ancient secrets of Ayurveda, CV Shobha started OLUMÉ to let the new generation know there is nothing better than plant chemistry to heal and get better 💚🌱
Share
View full details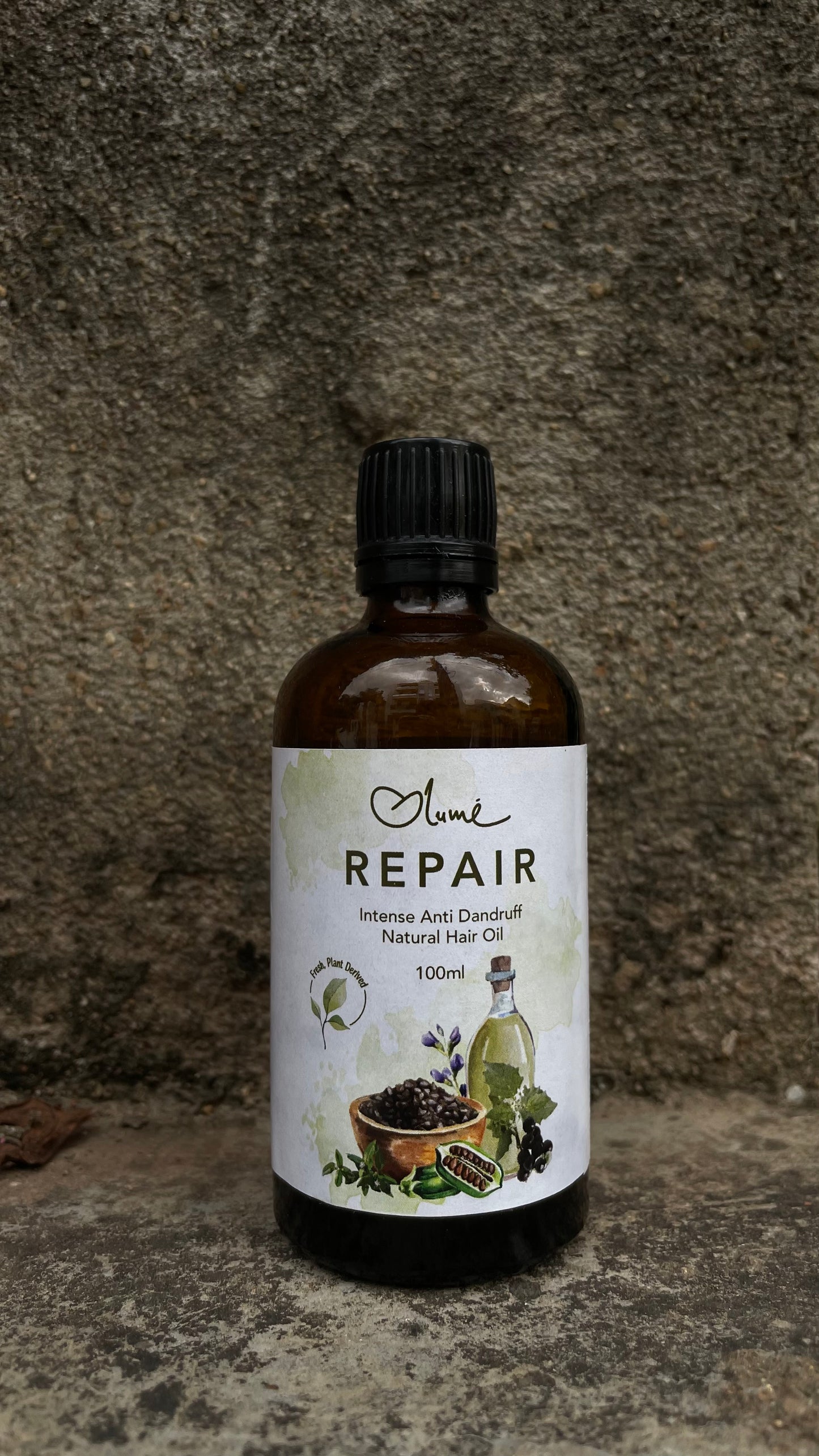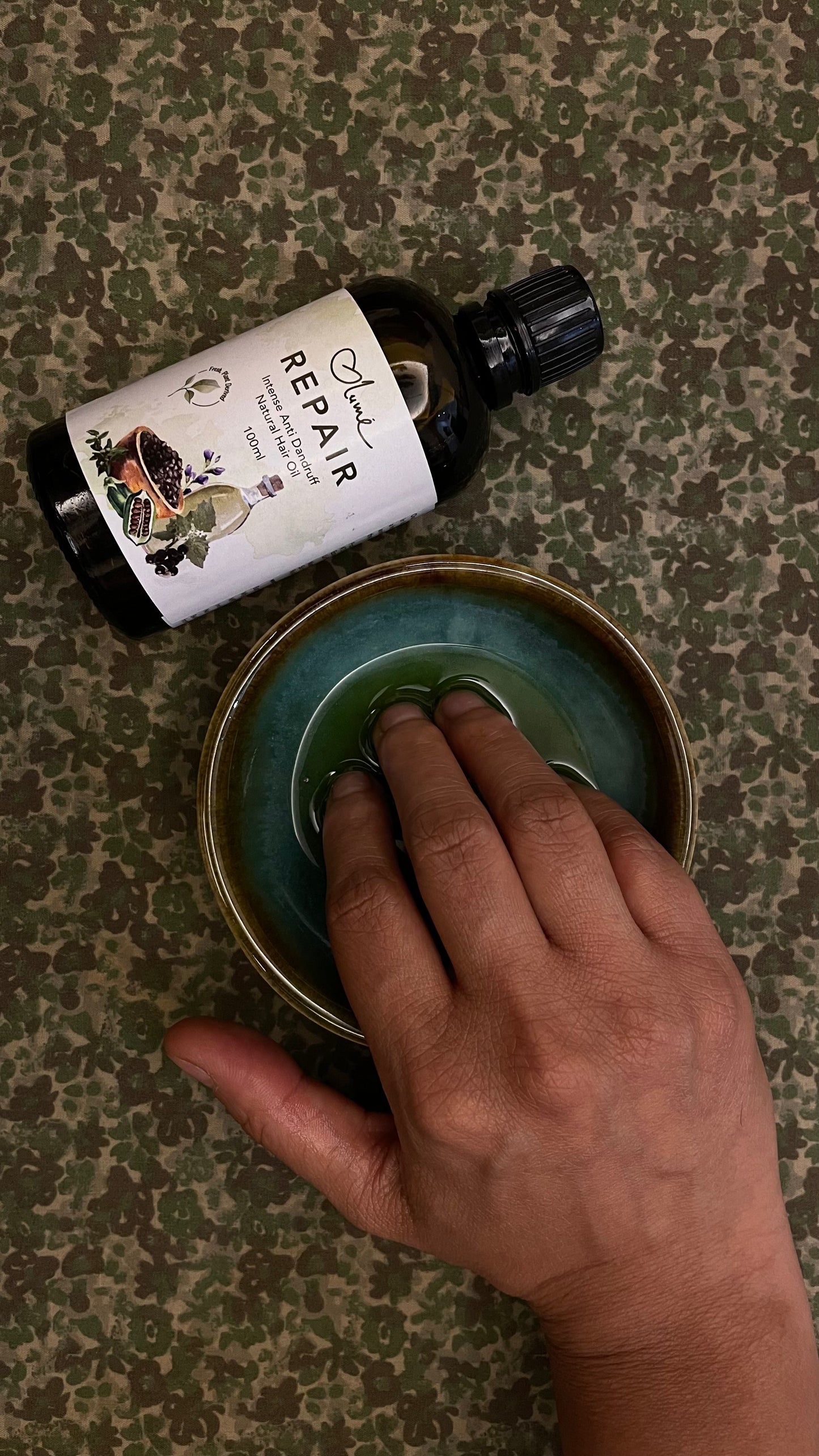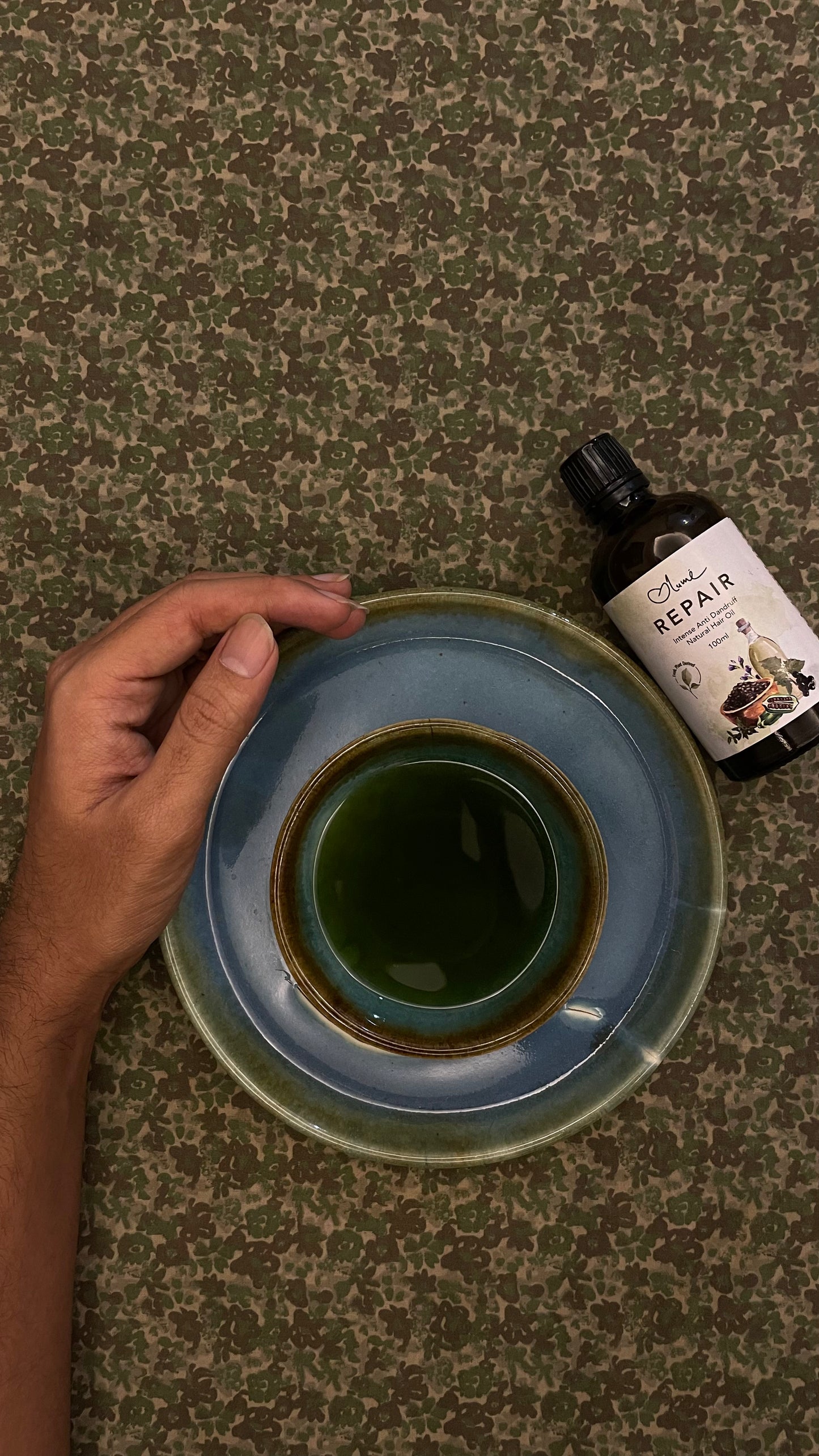 Review about hair color
I have used once and have to use one more time to finally decide the qualities of the product. Nevertheless so far so good.
Just used twice- so cant say enough. Will be using it thrice a week & then share the actual review..
Let's get into the nitty gritties
Why OLUMÉ Anti Dandruff Repair Hair Oil

An ancient formulation of just 5 herbs in a base of Native Black Sesame Oil, this oil roots out Dandruff forever within 42 days when followed with dietary guidelines.

Make sure to follow the ritual as devised and your flaky problem will be gone forever!
Here's the Ritual

Dip your fingertips into the oil and work it onto your scalp thoroughly. Using a circular motion, let the oil penetrate into the scalp, applying along the length of your hair.

Leave it overnight or all day or keep it for 30 mins. Wash off with Olumé Cleanse Soap.

*DIET*
1. Native Oils: Use native cold-pressed oils for cooking like Groundnut, Coconut, Sesame, or Mustard. All newly established seed oils have highly skewed Omega 3:6 ratio and shouldn't be used in cooking. Particularly, stop using Sunflower, Rice bran, Palm, or Cottonseed oil. Most restaurants use Palm or Sunflower Oil in their cooking so it's best to reduce dining out. Desi/A2 Ghee is allowed, of course, as it is rich in Omega 3 and contains healthy fats

2. Sugar: Stop using sweeteners like White Sugar, Yellow Jaggery and Commercial Honey. Switch to Brown Jaggery (Palm or Cane) or Wild Honey

3. Eat Right: Reduce simple carbs like Maida and White Rice. Include Rajmudi/Red/Black Rice, Millets (Ragi & Kodo), and Fibre-rich native greens
What's In It For Me

Olumé Repair Hair Oil removes dandruff and soothes the scalp. It also tackles premature greying and imparts sheen to hair.
What Goes In It

Bhringaraj (Eclipta Alba), Neelinee (Indigofera Tinctoria), Lonika (Alternathera Sessilis), Kakajanga (Leea Aequata), Kasi (Solanum Nigrum), and Sesame Oil (Latin Sesamum)
Olumé, meaning affection and care in Kannada, is started by CV Shobha, a herbalist who has been making evidence-based formulations for the past 30 years.

At core, this is why we are different—

1. We don't add any chemicals to our formulations — not even artificial fragrances, we prefer natural aroma!

2. There are no shortcuts to holistic health. Our herbal formulations nourish you in and out, and they work well addressing the root cause

3. We hold less inventory which
allows us to make our products in small batches ensuring
each herb works its magic when it
reaches you

--

*Shobha CV has treated more than 5000 people having skin and hair disorders in the last 30 years.